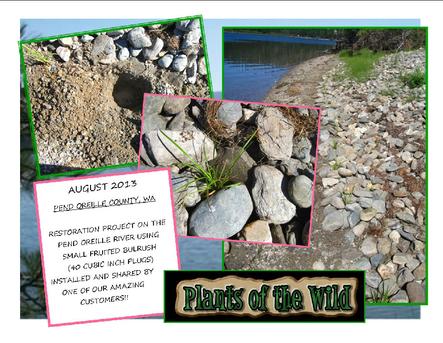 Check out our...
Planting Instructions
Thank you for your purchase of container grown native plant material from Plants of the Wild.
We have prepared these instructions to assist you in your planting project.
However, since each situation is unique, they should be used only as a general guide.
Container Grown Seedlings
We grow only containerized seedlings for a reason. Unlike bareroot seedlings, which must be dug from the ground, cutting the roots and exposing them to drying conditions, container seedlings are 100% intact without exposure.
This means earlier establishment, quicker growth and higher survival. For the inexperienced, container grown seedlings are also easier to plant. There are fewer problems with root deformation (J or U root, etc.).
There are also fewer problems with drying conditions that kill the seedlings before planting. All of these factors mean a more successful planting for you.
It is important that seedlings be planted as soon as conditions are favorable, i.e. adequate soil moisture and soil temperatures (at least 40-45 degrees F at a 4-inch depth). Ideally seedlings should be planted within 10 days of receiving them.
If you need to store the plants this may be done for several weeks in a cooler or refrigerator. The ideal temperature is between 33 and 35 degrees F (40 degress maximum).
Plants should be checked once a week to determine whether there is fungal growth on the stems, or if the plants have broken dormancy. A snow bank or root cellar may also be used for short term storage.
Exposing seedlings to sun, wind, low humidity or freezing temperatures before planting is detrimental to seedling survival. It is vital that seedling roots be kept moist until planted. At no time should the seedlings be allowed to sit in the sun.
Toxic gases could form in the plastic bags and kill the seedlings. Remove only one seedling from the bundle at a time and only after the hole is dug.
Make sure seedlings are upright and that that ground is firmly packed to remove any air pockets, but not compacted around the seedling.
The rooting media (the top of the root plug) should be covered with ½ inch of soil. Finally, if possible, water the transplanted seedling with 1-2 gallons of water. Make sure the root plug does not become exposed after final watering.
The planting hole can be made with any implement that makes an adequate size hole, such as a hoe-dad or shovel. The important thing here is to avoid compaction of the soil wall, which would prevent root growth into the surrounding soil.
Once the hole is made, fertilizer, such as Best Tab 10 or 21 gram tablets (20-10-5 analysis) can be placed in the hole about 2 inches from the plant roots. These tablets are available from our nursery.
In addition to competing vegetation, you may also need to control animal damage. Wildlife and domestic livestock can cause damage by feeding on newly planted seedlings. Protective measures such as tubing or animal repellents may be used at the time of planting.
Rigid seedling protection tubes are also available for purchase from our nursery, such as the one pictured at the left. Secured with bamboo stakes, these are an affordable option to protect your investment.
It is our desire to make your planting project as successful as possible. If you have any questions or we can help you in any way please be sure to contact us.